Check the Calgary Flames schedule
Find more Calgary sports.


What is the
Calgary Flames schedule
for the upcoming year? This page shows when the upcoming games are to be played. It defaults to the current month and shows which games are home games with a black background, while using a white background to depict away games.
Also note the little blue boxes in the upper right-hand corner of the Calgary Flame game schedule which tell you which ones can be seen on television. The gold boxes show which
Calgary
Flame hockey games will be on your favourite Calgary Flames radio.
The centre icon on each calendar date with a game tells you who the opposing team will be. Notice the most common ones are the Edmonton Oilers, the Colorado Avalanche, The Vancouver Canucks, and the Minnesota Wild.
These are the other NHL Northwest Division teams. Wanna see next month's games? Just pick the month (an year if applicable) in the little date selector box just above the calendar screen.
Another thing you will need this schedule for is to get Calgary Flames tickets. This website, http://www.buyselltix.com/nhl/flames.php enables people to buy game tickets and sell any ticket to the Calgary Flames if they can't go to the game. You never know, you might find just the right bargain here.
The Post-Game Party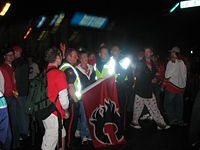 And, you know, after a good Calgary flame home game, there's always an abundance of Calgary Flames parties. Just hike down westward on the Calgary map from the Pengrowth Saddledome to the 17 Avenue strip, where the real face-off (and nearly everything else) is. Especially during the playoffs.
That ol' red mile, Calgary Flame girl antics, and Calgary Flames party action makes keeping your eye on the Calgary Flames schedule even more fun.

What makes the red mile red? You need to ask? All those people wearing Calgary Flame jersey shirts and other Calgary Flame merchandise. All bearing the red Calgary Flames logo.
Who knows? Maybe you'll even spot Jarome Iginla and company (Sometimes spelled Jerome Iginlia.)
Go back from Calgary Flames Schedule to the Famous Albertans page or leave your comments on this page right here. Good or bad.
Yeah, That's the Ticket.
Excited about an upcoming concert, game or other event? Or did you just see a great one?

If you want to see your experience published here, you can tell us about it now. If you have a photo, you can send that as well.
You know what to do. Watch the Calgary Flames schedule so you can watch the Flames games. If you're a fan, the best times are waiting for you ahead.



Search this site for more information now: