Now playing in Calgary music bars.
Search for more music in Calgary.


Who's playing where? What
Calgary music bars
feature these two bands?
What bands?
How's this for diversity? How's this for
good Calgary entertainment.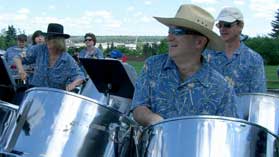 1. Calysto Steelband - The tropical extravaganza of the north. They added a touch of class and an element of warmth to life. They never played many bars, but if you did get a chance, you would have remembered this band.
It featured almost 20 players performing sultry steel drums at once. It filled the room. Quite literally. But the band did leave some space to dance. Calysto is RETIRED, but watch for a new steelband in Calysto's place.

2. Back in the Day - Rock 'n' Roll as you remember it. Rolling Stones, The Guess Who, Bad Company and the Beatles.
Does it get any better? Oh, yeah... Add a little country too...maybe even some alternative musics from the 90's. Come hear famous songs from up to 40 different renowned groups of your life. Now playing at live music venues in Calgary.
Where can I see them?
You may ask. See maps on the pages that follow.
Back in the Day at Calgary bars.


See
Steel Drum Pans to find more about this once great Calysto Steelband.
By the way, I'm Barry. You'll find me in still in Back in the Day.

Where are the bands around Calgary?
Calgary Rocks! Or does it? Know of any other great bands in town?

Country? Metal? Alternative? Your Band? Maybe someone else wants to know. Let us know.

Most bands need whatever help they can get. Help yourself now and include a photo if you wish. Maybe you can even find a good band to join here. Good Luck.

Other examples
Check below to see contributions from other visitors to this page...



Go back from Calgary Music Bars to the Calgary City Maps homepage.
Search this site for more information now: