Highway map of Alberta
Search for more maps.


Below is a large
map of Alberta
showing main cities and highways. Find your way around the province.
Where is Alberta? It lies on the left side of a Canada map. One province removed from the west coast.
The only province to the west is British Columbia.
It touches the US - Canadian border on the south, bordering along the northern edge of Montana, and to our north is the great Northwest Territories. Saskatchewan lies on the east.
Here is the map.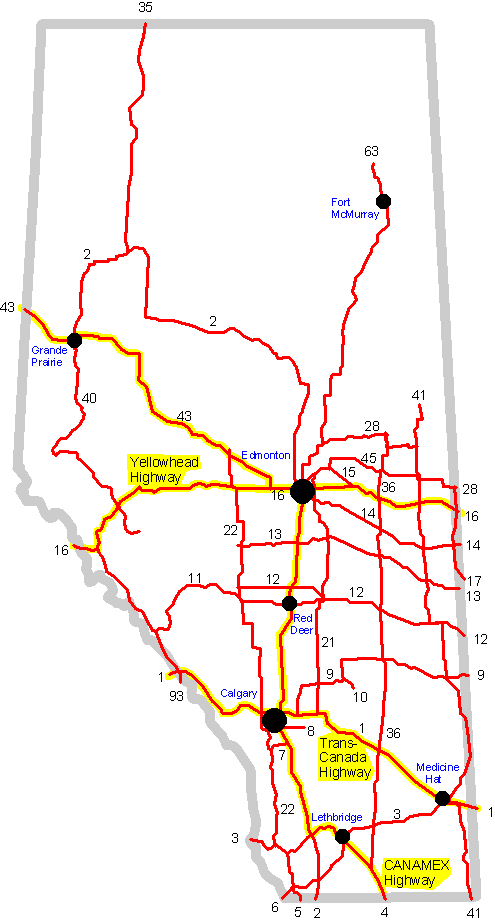 This map displays the seven largest independent cities of Alberta as black disks:
Edmonton
Lethbridge
Medicine Hat
Red Deer
Grande Prairie
Fort McMurray
The red lines on the map show you many of the primary highways, the lowest numbered ones from 1 to 17 and the major two-digit numbered roads.
For example Alberta highway 21, 22 and 41. 63 connects Fort McMurray with the rest of the world, while 35 does the same for High Level and the NWT. The yellow highlighted thoroughfares through this map of Alberta include:
The Trans-Canada Highway, which runs from the Maritimes westward through Alberta to the British Columbia coast.
The Canamex Highway, the international corridor which runs from Mexico northward through the western US and Alberta, and through Grande Prairie into BC. In Alberta, we call our stretch the Queen Elizabeth II, or QE2 for short.
The Yellowhead Highway which runs from Manitoba to BC.
What kind of driving experience did you have?
Have a few tips and instructions for people who are using maps. Figuring out how to find something can be daunting at times and any added info can be a treasure.

If you got it, maybe someone else needs it. Please enter a paragraph or two to show how you did it, how you found it, how you got there.

Some parts of Calgary can be quite confusing and any help will be welcomed.

Thank you.
Here are some examples
Check below to see contributions from other visitors to this page...

Map of Calgary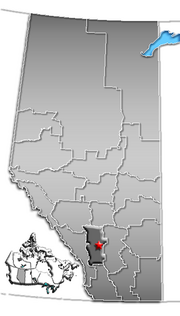 The larger city near the south end of Alberta is Calgary. Find detailed street maps of the city here, and also a unique downtown Calgary map.

Search this site for more information now:
...or Go back from this
Map of Alberta
webpage to the
Alberta Canada Weather
page now.