A great Calgary Alberta rock band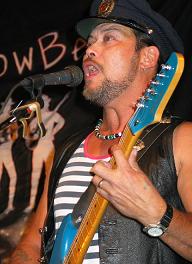 This Calgary Alberta rock band is ready Ready for what? Ready to play the soundtrack of your life. Get out to one of your neighbourhood Calgary pubs and find these guys. It's worthwhile.
They're called Back in the Day. They will show you how to rock. You like Q107? You'll probably like this. Back in the Day plays all over their musical map.
They've got Beatles, Stones, Mellencamp, BTO, Steppenwolf. Billy Joel never rocked like he did in 1980. It's good.

Need a detailed song sheet? See what else do they do?
Remember those days?
See the band in action. This song is called "That Girl" by Shaggy.
Now is your chance get out of the office and spend an evening with the guys, or with that special someone for a few before some more later on.
Some come out to visit. Some come out to sit 'n listen. Some come out to party & dance. Take your pick. It's all good.
The good times, past and present, begin with the music. Have fun. Wanna know where? In which Calgary clubs do you find THIS top notch Calgary entertainment?
Check the gig list.
Yeah, That's the Ticket.
Excited about an upcoming concert, game or other event? Or did you just see a great one?

If you want to see your experience published here, you can tell us about it now. If you have a photo, you can send that as well.
What Other Visitors Have Said
Click below to see contributions from other visitors to this page...



Go back from Calgary Alberta Rock Band to the Calgary Girls Party web page.
Search this site for more information now: