Which Calgary street maps do you need?
Search for more Calgary city maps.


Calgary street maps
help us
choose routes
to reach the destination of your choice within the city.
Some of these services find and mark a specific address for you, while others such as mytelus.com, Calgary's online phone directory, provide you with specific driving directions. Google Maps does an excellent job of this as well. They indicate exactly which turns to take when driving from a one spot to another.
Online maps are zoom capable so that you can move inward for greater detail or outward to see how your location fits into the big picture.
The best of these websites also allow you to pan. That means move in any direction you choose to see the next neighbourhood for instance. Some allow you to use a map that fills a larger portion of your screen and to create printer-friendly versions of the map.

Now that you found the map you need, how do you get there? See the Calgary Rental Cars page if you need to use a vehicle to get from one part of Calgary to another.

One online mapping service already mentioned, Google Maps, gives you driving directions similar to myTelus above. It also allows you to view a satellite photo of the same spot, or even overlay it to form hybrid Calgary street maps.
If you want to see something really special, download and install the software from Google Earth. It opens a whole new dimension in map viewing (such as terrain elevations and satellite photographs) and makes it fun.

Compare the views of the city from each of these web sites.

Canada Mapquest - Calgary Mapquest




Mapping Yahoo maps


Map msn, also known as Map blast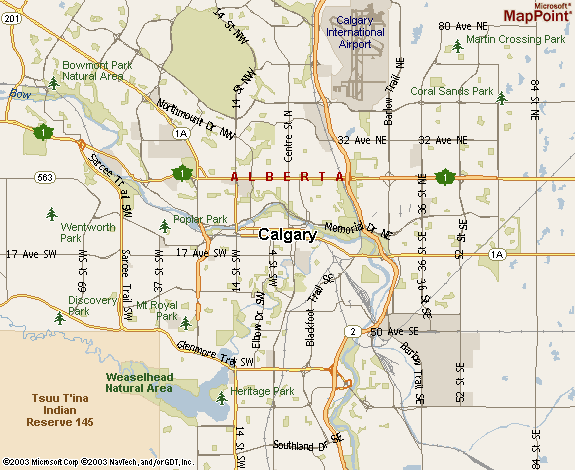 Calgary Street Maps for Other directions
These gas prices are killing us. If we could to improve fuel efficiency, that would be great. Read all about it.
Find a good Calgary job by checking this list on the right.

Need somewhere to go for entertainment whil in Calgary? Check out these local bands.

Are you looking for a detailed map of downtown Calgary? This one shows most of the lower levels, including the Plus 15 system, and all the connected retail outlets.
Driving to the airport? Here is a resource guide for the Canadian traveller and visitor. Find Canada travel sites, deals, destination information and travelling essentials.


Search this site for more information now: