Check out the steel drum pans.
Search for more Calgary music.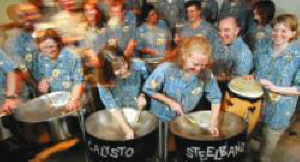 Ever have heard the steel drum pans in Calgary?  Check this unique and fun band, the Calysto Steel Band.  One of Calgary's most unusual entertainment outfits is the Calysto Steelband.
Here you would have found a supersize combo of musicians performing on the traditional steel drums of the Caribbean Sea and its island nations.

Until late 2010, this outfit performed mostly at privately arranged engagements. Sometimes we played public Calgary music venues such as neighbourhood pubs around the city of Calgary.
See schedule and maps below.

July 18, 2015 11:00 AM
Montgomery Block Party
Calgary, Alberta

April 10, 2018 
Carewest Sarcee
Calgary, Alberta
May 8, 2018 
Private Function
Calgary, Alberta
May 27, 2018 
Calgary Marathon (Memorial Drive) 
Calgary, Alberta  - Starting at 7:00 am on Sunday - Be There ☺
Calysto Steelband has travelled to Barbados on several occasions to play in local venues. Places such as the Holetown musical festival and Barbados beach front restaurants.

The bands that play steel drum pans form a great part of Barbados nightlife. I have personally been overwhelmed by the quality of the entertainment in this part of the world.

Have a look at some steel drum pictures.

The band was great fun playing reggae music, well known and ethnic tunes. The fun included soca, latin, rock n roll and calypso all from one steel band. You could also enjoy some Bossa Nova and other tropical styles.

If you had a chance to see this band live, you would not have been disappointed in the quality of the performance. They occasionally played public performances as well.

or maybe you would rather Calysto on Facebook.
Where are the bands around Calgary?
Calgary Rocks! Or does it? Know of any other great bands in town?

Country? Metal? Alternative? Your Band? Maybe someone else wants to know. Let us know.

Most bands need whatever help they can get. Help yourself now and include a photo if you wish. Maybe you can even find a good band to join here. Good Luck.

Other examples
Check below to see contributions from other visitors to this page...

steelgroovingband mauritius island

we are 6 musician tenorpan/;hensleysaramandif tripleguitar;/ nishal king double secound/leeroy …
See the steel drum pans right here in Calgary
Press on the PANoramic graphic below.  Where has Calysto played in the past years?
Nathan's Resturant & Bar
Dalhousie Community
ALL OVER New Brunswick and Nova Scotia
Little East Baseball
Duke Energy
Mount Royal College
Earls
Solstice Beat
Woman's Resource Centre
Burnco Marathon
Parkinson's Walk
Wish Upon a Star and
Silver Springs Community
Several Places in Barbados

To join the band, have a look at this page.

Curious about how the instruments work? Now for some technical information about our pans.
Now that you know our schedule and availability, find out more about the band.
Prefer Rock'n Roll?
Find out where my rock band is playing! Back in the Day is going strong.
Go back from Steel Drum Pans to the Calgary City Maps homepage.


Search this site for more information now: