Find Calgary Alberta Canada weather
Search for more on the Calgary environment.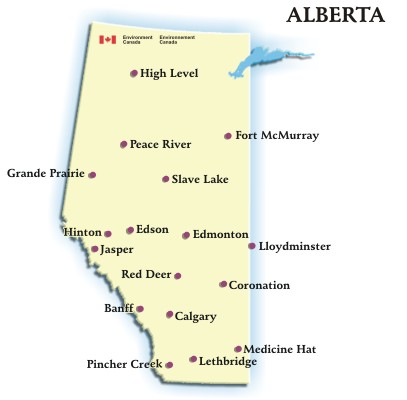 Need Alberta weather? Have a look at the Alberta Canada weather map from Environment Canada Canada's The Weather Network has Edmonton and Calgary Alberta weather, on their home page. You will also see info for the other major cities.
The spots on these maps where the cities are shown will connect you to 5-day forecasts for each locality.

Also, find a quick Calgary Alberta weather forecast.

Compare Calgary weather forecasts from various Canadian and American forecast services. Some of them feature weather maps as well.


Past Weather
The forecast pages also include recently observed weather.

See an animated map of recent Canadian temperatures on Weather Underground. If you want to know a little more about measuring weather, look at these pages.

Pressure

Temperature

Humidity

Wind

And...

Rain Go back from Alberta Canada Weather to the Calgary City Maps homepage.


Search this site for more information now: