Welcome to Greenview Calgary
Search for more Calgary communities.


Greenview
Here's a handy location. See the large #5 on the map: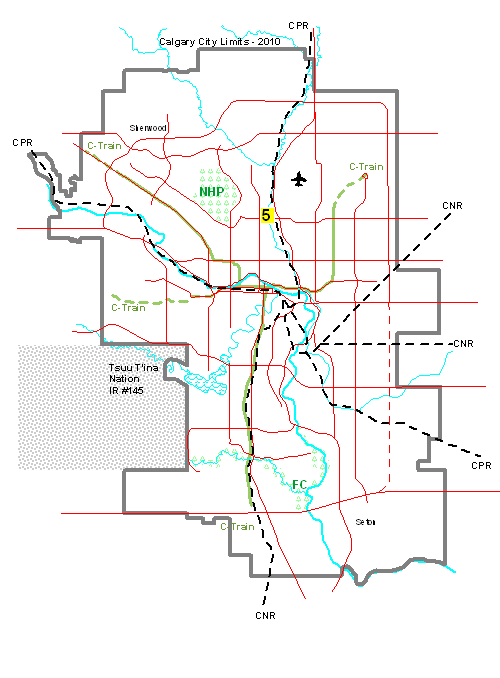 It's well situated between Centre Street and Edmonton Trail. Just a quick jaunt to downtown, with even quicker access to Deerfoot Trail and the airport. McKnight Blvd and John Laurie Blvd offer a convenient passage to SAIT and the University of Calgary as well. There is even a golf course within walking distance.
A major advantage of this area is its proximity and convenience, to other parts of the city, as noted in nearly every Calgary real estate ad in this area. In addition to Deerfoot and such, the drive or bus ride to downtown is very reasonable compared to most other Calgary communities. There is also some shopping, dining and nightlife within walking distance.
On a map, though, the community appears small and somewhat isolated. It straddles McKnight Blvd, A ravine separates it from Highland Park to the west, while the dividing line between This neighbourhood and Thorncliffe to the north and west consists of Trelle Drive and Thorncliffe Park. Deerfoot Trail forms its east boundary while the extreme south portion of this neighbourhood stays inside of Greenview Drive NE up until it meets Edmonton Trail. It only boasts a population of about 2000, and one of the lowest crime rates, see Calgary Crime Statistics, in the whole Northeast quadrant of Calgary, and lower than all immediately surrounding neighbourhoods.
This Community Association has scouts & guides, a lounge, binto and even bowling.

Calgary Real Estate Listings - Good News for Greenview and elsewhere
Real estate prices are very reasonable in this area, comparable with the remainder of the northeast, and the area should remain quite popular with first-time home buyers, as it offers very good real estate value, all things considered. There is a healthy mix of free standing houses and condos, walking and biking trails here as well as a nice off-leash area for exercising the pooch and three elementary schools serving the area.
The schools go by Buchanan School, Thorncliffe School and Green View Elementary School, which is bilingual. For upper grades, we have the Sir John A MacDonald School, Georges P. Vanier School, John G. Diefenbaker High School and the James Fowler High School. See the Calgary High Schools page for high school locations. Catholic kids go to Corpus Christi, École St. Pius X, St. Mary, St. Joseph, St. Francis, and Madeleine d'Houet.