Monterey Park in Calgary
Search for more on music and Calgary.


Monterey Park. How about this lovely neighbourhood for your household?  This far-east-Calgary community offers great value in a good low-crime middle to upper middle class residential area, and serves as a functional delight for young families of all sorts.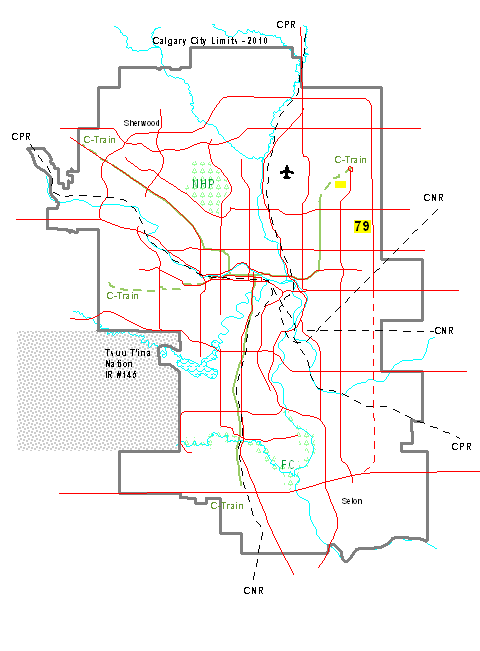 It's right on the 16th Avenue freeway westwards into downtown (or eastwards out of town if that's where you're heading), south of McKnight Blvd and just east of 68 Street. See the number 79 on the map above for a rough idea.
To the east of MP is the new freeway (separated by a large buffer to control traffic noise). This place was built-up in the 1980's and 90's and now has a population of over 10,000.
This community features convenient shopping, a short jaunt west to the Peter Lougheed hospital if necessary (along with plenty of major shopping in the hospital's vicinity), good access to the airport and two freeways.
It is now a well-established neighbourhood with schools, developed playgrounds, a community hall and decent transit service.  And plenty of appropriately-sized homes in a fair price range.
Why live here in Monterey Park?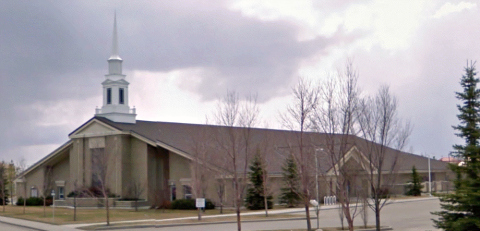 Church Of Jesus Christ Of Latter-day Saints
Owners like it here and number of properties for sale here remains quite low for its size, so if you find a treasure, grab it quickly.  Who wouldn't enjoy a quiet area with caring neighbours, a handy recreational centre and its many regular activities.  The people here take pride in their collective home and this makes it very desirable.
Where to the young students go to school? The youngest ones attend Monterey Park School, located centrally right in this neighbourhood. Most of them move on to Clarence Samson Junior High School until grade 9 and then James Fowler High School.
On the other hand, if you support the Calgary Catholic School District, your choices include St. Thomas More and St. Wilfrid up until grade 6, Father Scollen and St. Martha Schools for kindergarten to grade 9, St Rose of Lima for Junior High and then Bishop McNally High School, which is located just northwest in Falconridge.
Churches with this community include the Church of Jesus Christ of Latter Day Saints (pictured above), the Evangelical Free Church and the Sonrise Community Baptist Church.
Go back from Monterey Park to the Calgary Real Estate web page, or visit the Calgary City Maps homepage.

Search this site for more information now: