Find a Calgary casino
Find more Calgary entertainment.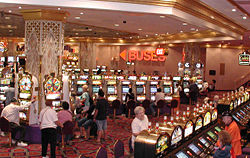 How often does a new Calgary casino enter the market in Alberta? Quite often...if the last ten years make any reliable indication. They just keep getting bigger, more ostentatious and better, or is that "bettor"?
The province's economy just seems to keep on booming from time to time. With those periods of rapid expansion come more opportunities for quality entertainment.
The latest two entries come from the nearby First Nations people on their own property, right adjacent to the city boundary.   And it's worth seeing, as it keeps growing, adding a major music venue and hotel to the complex in more recent years.
That entertainment thus includes gambling and sports as well as live music. You may see these bands or the others performing at these casinos, or elsewhere, at any given time.
The east part of Calgary, near Deerfoot trail seems to be a popular area for these establishments, and so is the Stampede area.
Map with Calgary casino listings

1. Casino Calgary, 1420 Meridian Road NE
2. Cash Casino, 4040B Blackfoot Trail SE
Elbow River Inn Casino, 218 18 Avenue SE, 1919 MacLeod Trail SE
Century (formerly Frank Sissons Silver Dollar) Casino, 1010 42 Avenue SE
Fun Money Casino
J E Enterprises
Jackpot Junction (Bingo) 15312 Shaw Rd
Stampede Casino, 1801 Big Four Trail SE
Deerfoot Inn and Casino Inc., 1000, 11500 35 St SE
And the only one in the city's west side: 
Grey Eagle Casino and Bingo, which is actually outside of the city, near 37th Street and Glenmore Trail SW.
There is a noteworthy one less than an hour west of Calgary, the Stoney Nakoda Resort and Casino at the intersection of Highways #1 and #40.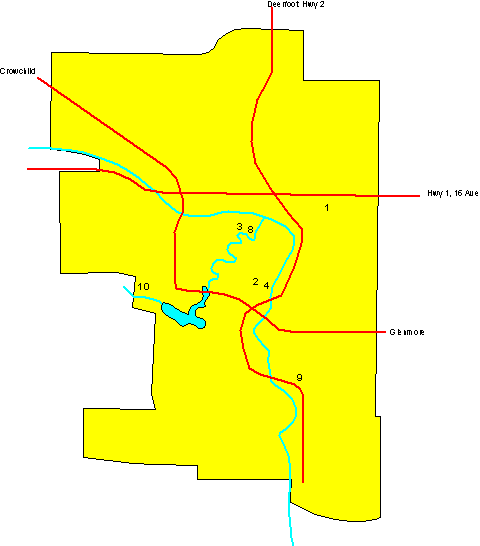 Here are some other Alberta Casinos listed in the Telus directory
Edmonton:
Baccarat Casino, 10128 104 Avenue
Casino Yellowhead, 12464 153 Street
Diamond Sound, no address given
Gold Dust Casino, 24 Boudreau Street St. Albert
Northlands Park, 7515 118 Avenue
P C Gaming Consultants Inc., 2710 8770 170 Street
Palace Casino, 2710 8882 170 Street
Sir Unicorn Special Events Inc., 11834 160 Street
The Big Idea, no address given
Rural Alberta casinos:
Boomtown Casino Limited, 9825 Hardin Street Ft. McMurray
Casino Lethbridge, 3756 2 Avenue S Lethbridge
Jackpot Casino Limited, 4705 50 Street Red Deer
Medicine Hat Lodge Resort Casino at 1051 Ross Glen Dr SE, Medicine Hat
Go back from Calgary Casino to the Internet Site Map web page.


Search this site for more information now: