Where is the Deerfoot Inn and Casino Calgary?
Search for more about Calgary entertainment.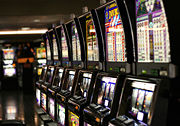 The Deerfoot Inn and Casino Calgary opened in late 2005.  Check out this modern Calgary Casino.  They seem to take pride in their facility. It is not intended just for gambling, although casino gaming is a distinct part of this place's appeal.    
The Deerfoot Inn features nearly 200 modern guest rooms at fairly reasonable nightly rates, convention rooms, restaurants, waterslides and a live theatre.
That entertainment showroom seats 400 around a live stage and hosts some very worthwhile shows, including recording acts and musical tributes and revues.
The space may even accommodate a large steel drum band. The conference rooms range from less than 300 square feet to nearly 7000. And they can seat from about 10 up to over 400. And this results in good flexibility, enabling the facility to suit your needs. 
The federal government even used it as a polling venue in a general election once.  Their website above gives most of the detail you may be looking for.
What is there to eat at Deerfoot Inn and Casino Calgary?
The Mohave Grill at the Deerfoot Inn and Casino offers you a decent sit-down meal anytime. There is also a buffet every day at the All World Buffet location.
If you want something less formal, grab some pub grub at the Wild Horse Pub, complete with live music in the form of local bands or Karoake at varying times.
As we all know, the central attraction here is the casino. And as with any Calgary Casino, Deerfoot allows local charities to benefit from the facility and the profits to be raised.
What gaming delights will we find here?  First of a 100% smoke-free atmosphere.  You gotta like that.
This place also features a separate poker room for those so inclined, as well as Black Jack, Bacarrat, Craps, Roulette, Caribbean Stud, Three Card Poker, 4 Card Poker, and Pai Gow (牌九 - a domino and/or playing-card game that originated in China).
And slots! 600 of them!
It is also conveniently located, being the only Deerfoot Casino Calgary has. The others are off the main routes, such as the ones near the Stampede grounds.
Got a reason to call them?
Do so at:
Deerfoot Inn and Casino 
11500 – 35 Street SE
Calgary, Alberta T2Z 3W4
Phone: (403) 236 - 7529
Toll Free: 1-888-875-4667
Local: (403) 236-7529
See the map below: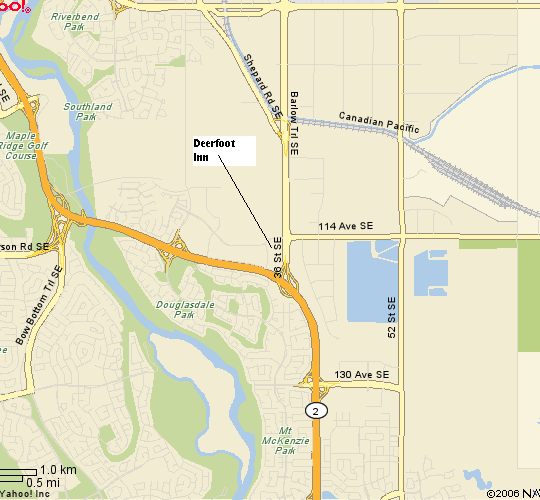 Go back from Deerfoot Inn and Casino Calgary to the Internet Site Map webpage or go back to the Calgary City Maps homepage.
Search this site for more information now: