Jason Webley at The Auburn Saloon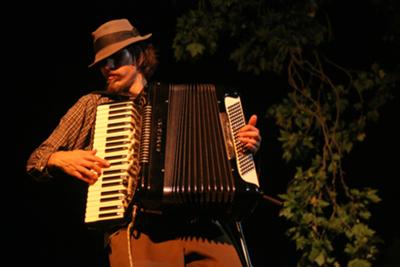 Photo by Elise Kane
Accordion troubadour Jason Webley is returning to Calgary for an interesting performance April 27.


Since he began as a street performer, Webley has built a dedicated following around the world with his chaotic live performances. His tireless touring routine has taken him to over 30 nations, most concerts ending with the whole crowd engaged arm-in-arm, moving and singing.  The Seattle Times notes Webley is "one of Seattle's most talented musicians, a singer-songwriter with a rare gift for crafting timeless songs that approach Waits and Leonard Cohen territory."
Jason has released several albums and plenty of collaborations on his record label, Eleven Records. He tours the annual Monsters of Accordion tour and has been known to share the stage with other performers such as The Avett Brothers, Devotchka and Regina Spektor. Additionally, Webley performs as one-half of the duo Evelyn Evelyn with Amanda Palmer who has played with The Dresden Dolls.
Webley has announced that he will be taking a year-long break from touring At the end of 2011, making our concert his last Calgary performance for quite some time.
Where is he performing on April 27? The Auburn Saloon (115 9th Ave SE, 403-266-6628).  It starts at 9 pm and is open to ages 18+.   Admission is a $5-$10 donation.
Barry's Response
- Have a great time! Thanks for letting us know.