World-Class set of music keyboard instruments
Search for music in Calgary.


Most fascinating music keyboard instruments. Where can you find them?  There is an enchanting place in Calgary's East Village. Where you can catch sight of the history of musical instruments.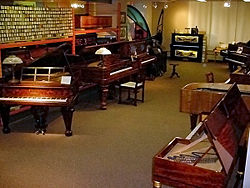 Head on down to 850 4 St SE.  Visit the Studio Bell / National Music Centre, which was formerly the Cantos Music Foundation in the beltline area.  Here you can find a gallery of unusual music keyboard instruments.
pianos
harpsichords
organs
stranger things
Over 400 of them.

This sightseer visited the previous location quite a while ago and looks forward to touring again. The outing started in a waiting chamber with half a dozen functioning instruments to toy with at leisure. Since I play this was right for me.
Now you can learn to play too.
With this simple, efficient course.

You would have found The Cantos Music Foundation at 134 - 11 Avenue SE, (have a look at this map below) but you can still reach them at the same phone number: (403) 543-5115.  They're now just two blocks northeast of this point.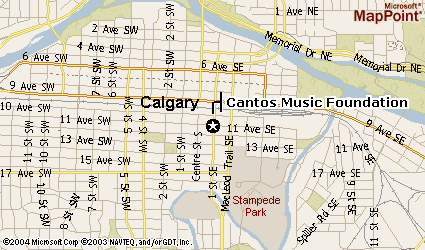 Harpsichord History
Here's what happened way back then.  As you progress through the two-hour exploration, you see old keyboards instruments in a roughly chronological order of invention. They have harpsichords and other predecessors of the pianoforte, which we now call a piano.

A large musical instrument made of a wooden case with wires stretched inside it and a single row of white and black keys.
You play it by pressing the keys, each operating a small hammer that strikes one of the strings, producing a sound.

View various pianos, including several English square antique pianos with relatively short keyboards. Also a strange looking baby grand piano, an upright once used by Elton John and Bernie Taupin.
That part of the tour also has some modern wonders such as player pianos and some with all sorts of gadgets, bells and whistles, quite literally. Strange music keyboard instruments. See interesting benches and stools as well.
Electric Music Keyboard Instruments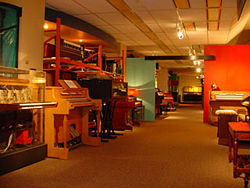 The second floor takes you through electrical and electronic instruments. But first a hand operated hurdy-gurdy, without the organ-grinder monkey. The largest item on display is a Kimball theater organ with
a full set of pipes
keyboard operated percussion
a few other gags, odds and ends resembling a cross between calliopes and pinball machines.
And now, at certain times of the year, they offer a special treat. This organ accompanies silent movies such as
Safety Last!
shown at the facility Monday nights.
Next came a Moog Theremin, the source of twentieth century spacey effects used in 50's sci-fi films and science documentaries.
It's got neither keyboard, strings nor anything else the player needs to touch.
Instead he controls the sounds by altering the electromagnetic fields in the vicinity of its two antennae, by waving his hands near them.
Do some research on Leon Theremin, its inventor and Clara Rockmore, a classical virtuoso on this device.

The important thing was that the theremin led to all kinds of electronic organs and synthesizers. Many of these were manufactured by Robert Moog's corporation. He passed away recently, August 21, 2005. Competing companies include Hammond, Korg, Roland, Lowrey, Baldwin, Casio and Yamaha.

The museum features twentieth century instruments as well, such as a working Fender Rhodes and Wurlitzer. A couple of electric pianos used by rock groups such as the Doors and Supertramp. There is a Mellotron, an early sampler that uses analog tape loops, plus a few digital machines and synths.

The best thing was, at least half of these things were accessible to the visitors. That is, you could play them as part of the demo.

I had fun playing them.  Still do.  Watch this.
If you like it I have more on youtube channel.  Go take a peek and see what you enjoy.  Thanks.
The exhibit is worth visiting.
Worth visiting Calgary for.

Scheduled tours occur on Sundays at 1:30 and 3:00 pm. Otherwise call to arrange a private appointment.

If you're really good, you can also see the restoration work underway in the basement. Cryptic music keyboard instruments and newly refurbished pianos.

Search this site for more information now:
Or go back from
Music Keyboard Instruments
to the
Famous Albertans
webpage. Or visit the
Calgary City Maps
homepage.