Calgary local music info - West Indies Style
More Calgary music.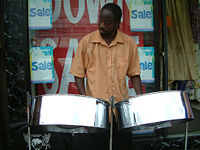 There used to be a little Caribbean in this town. Find it with this Calgary local music info. This band took many to the tropics, quite literally. For the most part, all you had to do was close your eyes, but if you did that. You would miss watching the band.
As exciting as they were to see, it's the music that got you. How much fullness and detail could twenty or so musicians provide? Use your imagination.
Or better yet, hear old videos of this band and find out for yourself.
They got a chance to go out and play around town quite a bit. Mostly private and corporate functions but a few parks, public places and Calgary nightclubs every year as well.
Where were they?
You could have find them at Schooner's in the west end by Coach Hill Road the first Saturday of every December up until 2010, for example.
Other annual Calgary events includee the the Parkinsons Walk stage in FishCreek Park the last Saturday of almost every September. You can take the kids and have fun.
This is the Calysto Steelband in their former glory. See more about them on the Steel Drum Pans web page. Or you can visit the Calgary City Maps homepage.




Search this site for more information now: