Calgary Hearld? Never heard of it!
Find more Calgary information.


When someone says
Calgary Hearld,
he means the Calgary Herald newspaper.

In 1883, a new daily paper appeared on the Canadian landscape. It eventually became the Calgary Herald newspaper.  At one time it was owned by the Hollinger corporation, with part ownership by Conrad Black.  Later on, the Postmedia Network Canada Corporation ended up taking over this publication from Canwest Global Communications Corporation. 
The modern version of the Herald features full sections for sports, weather, real estate, city news, leading national stories and entertainment amongst others. Finally, you can't overlook the Calgary Herald classified section. And the most comprehensive collection of daily comics in the city.  You can sample their goods at calgaryherald.com
The sports section likes to cover the city's major teams Calgary Flames NHL Hockey, Calgary Stampeders CFL football, Calgary Roughnecks NLL LaCrosse and Calgary Hitmen WHL Hockey to name a few. Plus professional and local things like curling, boxing and the Olympics.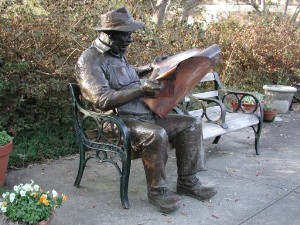 The real estate area has two major weekly sections. One for homes and another for condos.
The entertainment section covers the latest Hollywood gossip, awards, reviews, the recording industry, more gossip and local entertainment and related issues in pseudo-independent publications such as the Swerve.
The Calgary Herald is related to Canada's National Post newspaper (which is considered Postmedia's flagship publication), and they share a substantial amount of business-related content.
Our beloved Calgary Herald has served the City of Calgary faithfully for over 125 years now, switching from afternoon delivery to early morning in 1985.  .
Calgary's other major daily newspaper is called the Calgary Sun. and there is a free publication available around town that goes by the name of Metro News Calgary, available online at thestar.com
What's the future for the Calgary Hearld?
Newspapers: a global industry in transition as an old paper-based technology confronts the age of the Internet and smart phones

The Calgary Herald has held its ground in spite of the decrease we have seen in the newspaper publishing industry over recent decades (due in part to the internet), which includes collapsing ad sales and classified advertising as well as declining circulation.   With other papers across the continent we have seen bankruptcy, cutbacks, decreasing revenues and closures.  Recessions have probably not helped matters much in this regard.  Some papers have profited from online activity, but only partially.  We will see how technological revolutions affect the Herald and other Canadian papers.  
Go back from Calgary Hearld to the Calgary Downtown Map webpage now.
Search this site for more information now: