Calgary Arenas and recreation
Search for more Calgary recreation.


Calgary arenas
host many sports events.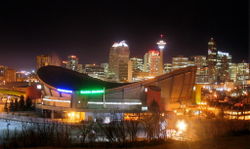 We love to chill out and enjoy leisurely activities and a diverse array of sports are enjoyed here. We have many things for locals and visitors alike. Attractions include Calgary arenas, outdoor stadiums and even a few race tracks.
Together, they give a chance to enjoy life, sports and such and also provides a means for fans here to support recreational activities. Some serve as locations for arts and musical happenings as well.
One person counted about 53 Calgary arenas, not including smaller local spots. And this number shall continue to grow with the city's population.
Wow! I mean, just imagine how many places are there to have fun. For instance, you can find 18 major natural parks in Southern Alberta. Places such as Dinosaur Provincial Park, Waterton-Glacier International Peace Park, Inglewood Bird Sanctuary and Fish Creek Provincial Park.
These parks highlight unique elements of our environment for their visitors, providing insight and novelty for these folks.
But what about Calgary Arenas
Locally, we find lots of sports grounds and stadiums. Check the Calgary map below:
Here are a few major ones.
Don Hartman North East Sportsplex
5206 68 Street NE
Pengrowth Saddledome
555 Saddledome Rise SE
South Fish Creek Recreation Association
100-333 Shawville Boulevard SE
Arena Oilfields Regional
611 3 St SW
Brentwood Community Assoc
Northmount Dr & 35 St NW
Calgary Centennial Arenas
2390 47 Avenue SW
Chestermere Regional Recreation Centre
201 West Chestermere Dr
Crowchild Twin Arena Association
185 Scenic Acres Drive NW
Crowfoot Arena
8080 John Laurie Boulevard NW
East Calgary Twin Arena Society
299 Erin Woods Drive SE
Fairview Community Assoc Arena & Hall
8038 Fairmount Drive SE
Family Leisure Centre The
11150 Bonaventure Drive SE
Huntington Hills Community Association
520 78 Avenue NW
Indus Recreational Centre
RR 5 Box 2 Site 9 Langdon, AB
Jack Setters Arena
2020 69 Ave SE
Jaycee Slowpitch Park
1899 39 Avenue NE
Max Bell Centre
Mount Pleasant Community Sportsplex
610 23 Avenue NW
Oakridge Community Association
9504 Oakfield Drive SW
Olympic Oval
SAIT Campus Centre
1301 16 Avenue NW
Sarcee Seven Chiefs Sportsplex
3700 Anderson Road SW
Sickel Arena
Box 2 Site 15 RR 5 Stn Lcd 1
Soccer Shop
284-10816 MacLeod Trail SE
South Fish Creek Recreation Association (SFCRA)
100-333 Shawville Boulevard SE
Springbank Park For All Seasons
32224A Springbank Road
Thorncliffe Greenview Community Assoc
5600 Centre Street NE
Triwood Community Association
2244 Chicoutimi Drive NW
Volleydome
2825 24 Avenue NW
Let's start with McMahon Stadium and Mewata Stadium. Both get used for football, major ceremonies and other things.
For skating, a magnificent oval shaped dome modelled after the first oval stadium in America was built in Calgary. This beautiful huge, covered stadium is especially made for speed skating and leisure skating.
We call it the Olympic Oval as it was made for the 1988 Winter Olympic Games. It conjointly serves as a home to Oval X-Treme female ice hockey team of the Western Women's Hockey League.
The Saddledome and Stampede Corral, two Calgary hockey arenas located next to each other on the Stampede Grounds, provide ice arenas for Canada's favourite sport. The NHL- Calgary Flames, the WHL - Calgary Hitmen and other Alberta minor hockey and ice events.
Another beautifully and proudly standing facility in Calgary is the renowned Calgary Stampede's "Grandstand and Chuckwagon Track". This is the place where world's biggest outdoor rodeo takes place.
If you happen to view the roof of the white buildings you can see that the words "Calgary Stampede". At least you'll know where you are.
As you can see, one can easily find world class grounds and tracks in Calgary. Calgary arenas too.

Your great sports memories
What did you love growing up? Good chance it had something to do with sports. Hockey. Baseball. Swimming.

Maybe your greatest sports memory was last season at that Flames game. Maybe not. Anyway, if was great, it's worth telling about. Now's your chance.
Go back from Calgary Arenas to the Internet Site Map webpage.

Search this site for more information now: