Telus Calgary White Pages
Search for more about Calgary communications.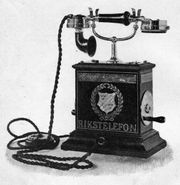 Need the online Calgary white pages now? Click the green tab at the top that says phone book and use the right-hand side colour-coded sections to find the person or business of your choice, similar to the paper Calgary Alberta white pages and yellow pages.
You will get the address and phone number, plus links for an interactive map and one which tells you driving directions from any place of your choice.
The rest of the green buttons take you to other Telus offerings, the company with the famous animal advertisements. That section of the page includes high speed internet, business and money information in some detail. Alberta movie listings come next, then western Canadian news headlines and sports.
See the second row for the reverse lookup if you know the phone number and need the name. Also look up area codes quickly and find out where Calgary TTY locations are for those with hearing problems. Even more options are available if you have an account.
Here is a quick tool that will let you do a reverse lookup for anywhere. Cell phones included. So are unlisted numbers.
What is on the mytelus home page? News, weather and stock quotes. Lottery numbers. Oh yeah, ads.
There is also a list of subjects down the left side, such as music, cell phones and mobility. Take your pick.

Calgary White Pages phone book
Like any other region, the Calgary telephone directory lists subscribers who use the phone company's services. It includes names, addresses and phone numbers for most entries.
You find things by looking at an alphabetical index, unless they they choose to be unlisted.
Calgary white pages - to find people and businesses alphabetically. At the front of the volume you can find a variety of maps and other reference material. Worth a quick skim so you have an idea where basic first aid information, for example, is located.
The good thing is, there is one of these in nearly every Calgary building.
Calgary yellow pages - to find businesses by classification and view advertisements for your desired goods and services. To hire a rock band, for example. This directory is published by Superpages.ca
Blue pages - to find government listings at the beginning of the white pages.
Purple pages - What's that? A long-defunct alternative to the yellow pages.
Go back from Calgary White Pages to the Internet Site Map webpage.


Search this site for more information now: