Jack FM Calgary radio
Search for more Calgary music.


Need variety in your music? Try
Jack FM Calgary
for fun.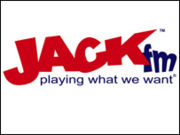 The Calgary Jack radio station, available within about 60 miles, or 100 km, of the city of Calgary, plays music which will appeal to your average adult roughly 30 to 50 years old. Both men and women.
Why? This is the music we grew up with.
There are Jack stations all over the map, as well as the USA, and they have a lot in common with the Calgary Jack FM.
First of all the Jack brand. Secondly the music playlists. Hundreds of hits anywhere from 1960 to 2000, usually. Not too heavy, not too boring.
Jack FM Calgary - Whatever! Whenever!
Secondly, the station likes to use their famous brassy motto "Playing what we want", implying that user input is ignored. I've never tried, but you likely could get a request in.
Otherwise just wait; they'll probably play it anyways.
Thirdly, the cynical sounding deep voiceover used to announce the Calgary FM Jack radio "philosophy", promotions and so forth can be quite amusing at times. That guy must be set for life. I've heard him on various TV commercials as well.
Finally, there was the initial phone contest. A lot of stations have had phone contests before, but this one's been running since Jack FM started in Calgary spring 2003. And it's the same. "Don't Say 'Hello', Say 'I Listen to Jack'". I bet they all use that one, not just Jack FM Calgary.
The Jack radio station started its corporate radio thing under Rogers Communications in Canada. Other corporations dove in to the action by licensing the brand, both in Canada and the US.
Additionally, other first names have been used, such as Bob, Joe and Dave. It seems these names took over from the popular animal names of the 90's, such as the Bear, Wolf and Lizard.
Some critics refer to the kind or corporate approach, such as the one used by Jack FM, as the McDonaldization of radio. That is where strict corporate standards apply to every participant.
Anyway, it's all in fun.
P.S. Don't forget about Matt & Eric. And the website and freeloaders contest points as well. And the Bonus Codes. And the comic strip (??)

If you want something other than corporate rock for a while, check out the local
Celtic folk scene.
Go back from
Jack FM Calgary
to the
Internet Site Map
webpage, or go visit the
Calgary
City Maps homepage.
Search this site for more information now: