Our Calgary radio stations
Search for more Calgary media.


Calgary radio stations
are quite famous among the community. Radio has evolved in our fair city, and elsewhere, from being one of the early inventions for entertainment and prime methods of education, entertainment and means of advertisement.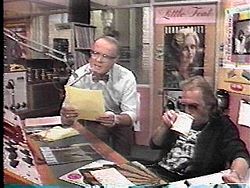 As a result, nowadays a big portion of population still identifies with radio in spite of there having been so many advances in other modes of entertainment. In a way, radio content broadcasting from a local area reflects the taste and behavior of that very place. And using the internet to carry broadcast signals improves content distribution that much more.
FM - Calgary Radio Stations
Darn Cheap
Watch Satellite TV on your Computer
CJAY 92 FM "Everything That Rocks", belonging to Astral Media, features Rock Rewards, Babe of the Day, and lots of good stuff.
Another popular station, CKRY FM "Country 105", owned by Corus Entertainment, uses the line "Today's Country" and has features entitled The Odd Squad, Scott Phillips and Roger Rhodes. Get 'em at 105.1 in Calgary and 93.3 in Banff.
At 95.9, CHFM "Lite 96" Today's Lite Rock, owned by Rogers Communications, has a light music blend with hits of the 70's, 80's & 90's. This radio station adds to the opportunity for fans to listen to music of their choice and it's got Lite 96 Mornings with Don and Joanne.
More good news for music lovers.


Indulge yourself in sheer rich ecstasy of music.
Calgary radio stations try to involve everyone; cultural minorities can enjoy shows fitting to their own tastes. They can simply tune CHKF FM 94.7 from the Fairchild Media Group. Chinese (Cantonese), Bangla, Cambodian, Vietnamese, Ethiopian, Thai, Filipino, Tamil, Hindi, Spapnish, Hungarian, Punjabi, Italian, Polish, Macedonian, Nepali, and Mandarin are included. This station entertains 'round the clock with multicultural shows, featuring programming in 19 different languages. It serves several ethnic groups throughout the day.
CIBK Formerly "the Vibe" 98.5 FM is now "98-5 VIRGIN Radio", "The New Vibe of Calgary" as well as "Calgary's #1 Hit Music Station", another product of Astral Radio, still brings us their gripping Morning Show with Marc, Dani & Fuzzy.
Let's see. What else? You can listen to Calgary's Only Classic Rock on CFGQ Q107 by Corus Entertainment. One of my preferred Calgary radio stations. It's a good'er. Corus provides radio shows with Jeff Woods and Alice Cooper.
At the bottom of the dial we have 88.1, CKAV-3, Aboriginal Voices Radio out of Toronto. Also known as Canada's National Aboriginal Radio Network.
And, yes, the wholesome station that the whole family can sit together and enjoy. CJSI Shine 88.9 FM brought to us by Touch Canada Broadcasting, is completely safe and fun. It features contemporary Christian programming.
CJAQ, formerly CKIS, Jack FM Calgary, another product of Rogers, "Playing what we want". Rock'n Roll. The way it was meant to be. Sorry, I was in college in the '80's, listening to the good old 1980s rock music then.
The Canadian Broadcasting Corporation, CBC, has two English Calgary FM radio stations. CBC Radio one CBR at 99.1 and CBC Radio two at 102.1 FM. They also provie espace musique, CBCX-FM at 89.7 FM.
Next, we have CFEX X92.9, owned by Harvard Broadcasting. I think "Calgary's New Rock Alternative" says it all.
Need some pop? Borrowing from California's KAMP-FM radio, CKMP 90.3 FM uses the identity, "Amp Radio" and "All the Hits" and it means we now have all the current pop we need. Thanks, Newcap.
Also from Newcap Broadcasting we have CFXL 103.1 now providing classic hits and oldies. These guys have changed identity as often as some people change their underwear. And they swiped this current Call sign.
97.7 FM is where you can find rock (and no more country). "Mix 97.7", "Variety...80's 90's and Today" CIGY used to tell us, "Our city. Your music. It's all here."
One of MY favourites. CIRI 106.5 FM. Computer generated traffic advisory radio, TAR.
Calgary has an entry at 101.5, CTVglobemedia's Kool (CKCE-FM) with the slogan, "Hits from Today & Back in the Day".
Throw in a couple of College stations, CJSW 90.9 and SAIT Ride 103 at 103.5 and you have a healthy mix.
At 103.9, Edmonton CBC AM Public Broadcasting station CHFA rebroadcasts in Calgary. The Call letters are CBRF-FM.
When is a Calgary radio station
...not really a Calgary station? When it's a few kilometres out of town. Let's see...what have we got comin' in from the sticks.
CKUV (Formerly CFXL) 100.9 FM "The Eagle" FM down south in High River - All Hits, All the time - Good old 70's Rock. And CFIT 106.1 FM in Airdrie or 95.3 FM in Cochrane. The Range - Your Perfect Music Mix.
And finally, CKUA Radio Network 93.7. Established in 1927, CKUA is acknowledged as the voice of Alberta artists, musicians and cultural enthusiasts. Every week, this station broadcasts 168 hours of diverse and entertaining shows and sometimes boasts educationally-focused music and informative series. All over the map.
Blues, Jazz, Fusion, Classical, Celtic, Folk, Contemporary, Alternative and even some rock music help make up CKUA's broadcast day.
Calgary Radio Stations - Play to your heart's content.
Return from Calgary Radio Stations to the Internet Site Map page now.


Search this site for more information now: