Girls of Calgary to see
More on the Calgary Stampede.



We start with these girls of Calgary.  Calgarians enjoy these classy Calgary Exhibition and Stampede queen and princesses as they make excellent ambassadors for our city: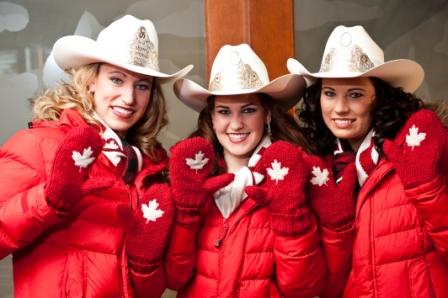 You might find some of the Stampede history quite interesting as well. This tradition, which started with Patti Henderson as queen in 1946, thus bringing the Rodeo Queen concept to Canada.
The Royal Trio concept helps reflect our civic pride in our western heritage. The successful Calgary Stampede ladies must meet some stringent requirements for this role.
Anyway, more power to them. They have an important job as "goodwill ambassadors" of the Stampede, and they reportedly make over 400 public appearances during their one-year tenure.
It's a tough job, but somebody's gotta do it. Hope those cowboy hats are good and durable. It's all fun.
Any more girls of Calgary?
See some photos of these on Google. Like these young ladies. Nonetheless, people often wonder about the Red Mile.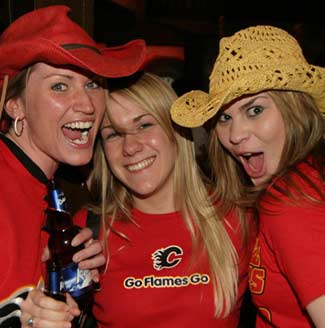 Some of that crazy Calgary Flames Red Mile action along 17th Avenue SW has been captured and you can see it by typing "Calgary girls red mile" into the Google images search box.
Some of these women became quite well known during the 2004 playoff run for the Calgary Flames. All hell sorta broke loose along the red mile section of 17 Avenue, leading from the Stampede grounds (which house the Pengrowth Saddledome, where the flames play) for several blocks westward.
The strip features lots of bars and restaurants and resembles the great Electric Avenue, 11 Ave SW of the 1980's Olympic fever days to some degree.
Drunken fans and other party participants made their way down the street, causing minor damage, fights and assaults, and public urination and other displays of body parts.
All in all, though, it was minor when compared to similar events in other cities; there was no serious rioting or looting. The most talked about of offenses was jaywalking.
Then there's the girls. These incidents made the girls of Calgary somewhat legendary.
If you're hunting for more explicit photos of the Calgary Flames red mile girls without any naked old men, alter the SafeSearch settings on the Google image results page to suit your needs.
You just might view a part of the Calgary girls you don't see everyday. Let us know what you think...

Know Something I Don't?
Anything that you have seen in Calgary that should be included on this website? Maybe you know something we ALL should know, or just have a great photo to share. You can, right here.
Here are some others
Click below to see contributions from other visitors to this page...

Anybody know who this cute girl is?

Hi there! I'm Patrick, 19 years old and I'm from the Netherlands. I've been in Calgary this year for allmost 3 months. It was a lot of fun, Rocky …
Never make the mistake of visiting calgary now!!!!!

Calgary nowadays is the most boring party destination on planet earth.Trust me my familys been here for nearly 50 years ,never has it been this boring …
The Electric Avenue Not rated yet
Was in Calgary for 4 months (from January through April 2004) and saw this building still with the Electric Avenue sign. When I was About to leave, passed …

Go back from Girls_of_Calgary to the Calgary Girls Party web page.
Search this site for more information now: