Calgary Map for the big picture
More about Calgary.


This first Calgary map gives you an overview if you're traveling to a new place for exploration and adventure.  Just in case that new place is Calgary.
It is always better to have a reasonable amount of information about the place you choose. That will help you to figure out where you are and where you want to go.
Somehow, it can even increase the fun you can have at your destination. Probably by increasing travel efficiency and extending the time, somewhat, that you spend there.
So, if you are heading this way, use a Calgary map to see a few simple facts about it. That way you may be able to visit places which you may not have even known about otherwise.
As Calgary is situated in the feet of the Rocky Mountains, we have our own topographic profile. It is relatively hilly. Calgary's elevation averages around 1048 meters (3440 feet) above sea level at downtown and to approximately 1083 meters (3556 feet) at the Calgary International Airport. And much higher at the top of Nose Hill, on the northern part of the map below.
The areal coverage of city area is 721 km, larger than both Toronto and New York city. In fact the next increase in size may have occurred by the time you read this.
What kind of driving experience did you have?
Have a few tips and instructions for people who are using maps. Figuring out how to find something can be daunting at times and any added info can be a treasure.

If you got it, maybe someone else needs it. Please enter a paragraph or two to show how you did it, how you found it, how you got there.

Some parts of Calgary can be quite confusing and any help will be welcomed.

Thank you.
Here are some examples
Check below to see contributions from other visitors to this page...

A more detailed Calgary map
Two main rivers run through the city. The Bow River, which flows from west to south, Bow is the larger river. The second one is Elbow River which flows from the south northeastward from the Glenmore Reservoir and meets the Bow near downtown. See them on this Calgary map.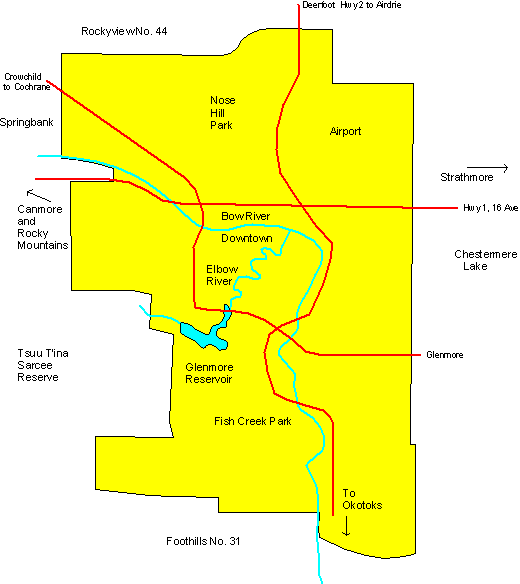 This city map is used as a base map on the web pages that follow:
Hope you like yellow.

Go back from Calgary Map to the Internet Site Map web page.



Search this site for more information now: